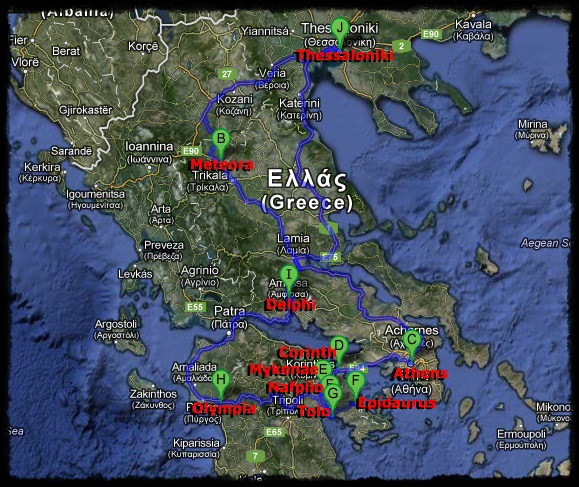 General information
Period: 18 - 27 August 2012 (10 days)
Itinerary: Krakow > Thessaloniki > Kalambaka (Meteora) > Athens > Corinth Canal > Antique Corinth > Mykenae > Epidauros > Nafplion > Tolo > Olympia > Delphi > Thessaloniki > Belgrade > Krakow
Distance: 4400 km
A flavourful melting pot of ancient architecture, sparkling night spots, fresh seafood, sizzling Mediterranean passion and mythical legend, Greece is a fascinating and enchanting destination - whether lounging on a sandy stretch, or exploring ancient relics. You can experience endless miles of aquamarine coastline, sun-bleached ancient ruins, feta, delicious olive oil and some ouzo. The Greek landscape thrills, and Greek people are passionate about politics, coffee, art and gossiping. Greece is strategically located between the mainland of Europe and the Middle East. It lies in the south of the Balkan Peninsula. The country covers an area of 32,000 km2. Greece is a mountainous peninsula with fertile plateaus, coastal belts and about 50 inhabited islands. The summer is warm, with temperatures between 28° C and 36°C.
Historically, Greece represents one of the most ancient civilisations, with advanced cultural and political institutions dating back to 500 B.C. Greece has captured the world's imagination with its ancient culture and fantastical myths. Visions of vengeful gods and goddesses, massive armies led by generals riding in chariots, and great philosophers discussing ground-breaking ideas dance in the heads of the millions of tourists who flock to the country each year to visit world-famous sites like the Parthenon in Athens, ruins of Corinth, Mykenae, Olympia, Epidauros, Delphi and the Meteora Monastery.
Greeks find pride in the highly influential history of their people. Greece was the cradle of Western civilization, giving rise not only to western ideals like democracy and liberal thinking, but also to the art of drama, comedy and tragedy. Great thinkers like Socrates and Aristotle gave us logic, while Alexander the Great showed us military genius. Homer wrote of the mythological Greek gods reigning from on high at Mount Olympus. Greeks were the founders of the Olympic Games. The list goes on, and can only be best appreciated by reliving the past during a visit to this age-old land...