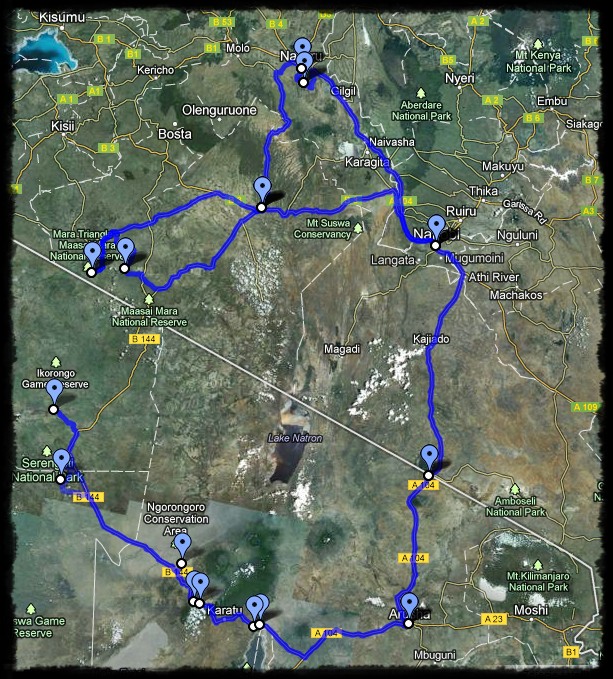 Welcome to a virtual trip throught Kenya and Tanzania National Parks.
See what we saw and experienced during two weeks spent in the southern Kenya, Northern Tanzania and Zanzibar island.
I will try to bring you closer to those places, it's wildlife and paradise beaches.
Have a good time :)
General informarion:
Travel dates: 15 - 24 june 2012 - 9 days Kenya - Tanzania Safari
+ 24 - 31 june 2012 - 5 days stay in Zanzibar, Nungwi
+ 31 june - 1 july - 1 day in Amsterdam (Thanks KLM:)
Percurred distance Kenya/Tanzania: ~3030 km + Zanzibar
Car: Toyota Land Cruiser - custom made for safari, 3000 cc
Support: Air France, KLM, fly540.com, Lonely Planet, iPhone.

Itinerary: Rome > Amsterdam > Nairobi > Great Rift Valley > Narok > Masai Mara National Park > Narok > Lake Nakuru National Park > Nairobi > Namanga border crossing > Arusha > Ngorongoro Conservation Area (passing by) > Serengeti National Park > Ngorongoro Crater > Lake Manyara National Park > Arusha > Stone Town > Nungwi > Stone Town > Prison Island > Stone Town > Nairobi > Amsterdam > Rome
Since the first time we knew that safari is an unforgettable and most spectacular travel experience, it touches something deep in your soul and it is an experience that will never be forgotten. This trip was both intriguing and exciting, created by the fascinating balance between the wildlife, the landscapes and people we met.
Tanzania and Kenya are home to 130 amphibian and over 275 reptile species, many of them strictly endemic and form the other side the are the oldest known inhabited area on Earth. They shows the highest mountain on the african continent, the exotic spice island of Zanzibar, and the famous National Parks whose seemingly endless grass plains stage one of the greatest spectacles of animal behaviour, the annual migration of millions of wildebeest and zebra followed by their predators.
The Great Rift Valley gives rise to the unique geological formations found in the magnificent Ngorongoro Crater and Mt Kilimanjaro.
A dusty safari into the vast wilderness is superbly complemented by time spent on the refreshing Zanzibar islands, with white palm-fringed beaches, beautiful coral gardens, and historic Stone Town - an exotic reminder of its days as a major spice and slave trade centre.
Moreover Tanzania and Kenya are home to hundreds of different ethnic groups and cultures, from the red-clad herders of the Masai tribes on the Serengeti plains to the modestly veiled women of Zanzibar's Islamic Stone Town.
The trip was fascinating mix of breathtaking scenery, extremely rich wildlife, and spectacular contrasts. The Ngorongoro Crater, with its blue-green vistas and unparalleled concentration of wildlife, was just amazing and it was surely the most stunning experience. Our journey had a relaxing end on the spice island of Zanzibar, a tropical paradise with white sand beaches and super clear blue waters...